Clayoquot Sound has a staggering array of hiking trails within it.  Between Tofino and Ucluelet, Pacific Rim National Park has several wilderness and beach trails, each one radically different from the last.  The Islands in the area are often Provincial Parks on their own with perfect beaches well away from the crowds.  This is a list of the best of the best of the areas hiking trails.
Clayoquot Hiking Trails

The Big Tree Trail

Hot Springs Cove

Lone Cone

Nuu Chah Nulth

Radar Beach

Radar Hill

Vargas Island

Virgin Falls

Wild Pacific Trail

Hot Springs Cove is a wonderful day trip from Tofino.  Lots of whale watching companies offer whale watching/hot springs tours for very reasonable prices.  The boat ride is out on the open ocean is quite fun and there is a fair bit to see, not least the whales that you hopefully encounter.  The hot springs themselves are wonderful, and the 25 minute (1.2 kilometre) walk to them is unexpectedly beautiful and interesting.
Intricate cedar boardwalks and bridges move you up and through massive trees and wind through the forest.  Years of interesting carvings into the boardwalk planks adorn the route.  Hundreds of names of visiting people, groups, and vessels, give the walkway a historic and artistic feel to it.  Along the boardwalk there are a couple very nice viewpoints looking out to the ocean beyond the forest.
Upon reaching the hot springs there are some nice, beautifully built, cedar changing rooms and yet another viewpoint.  Finally a short path takes you to the hot springs.  Flowing through fissures in the rock the amazing 50 degree water (122F) flows from a small waterfall and continues through five wonderfully natural pools that lead to the ocean... Hot Springs Cove is an amazing day out from Tofino that can include whale watching and an enjoyable boat ride to reach them.
The amazing, natural hot springs are beautiful and due to their remoteness, relatively serene.  To enjoy hot springs that cascade into the violent Pacific Ocean is amazing!  The hiking/walking trail to reach the hot springs is very nice and entirely enjoyable.  The cost to reach Hot Springs Cove from Tofino is quite reasonable ($120) when you consider all that you pack into the journey, there and back.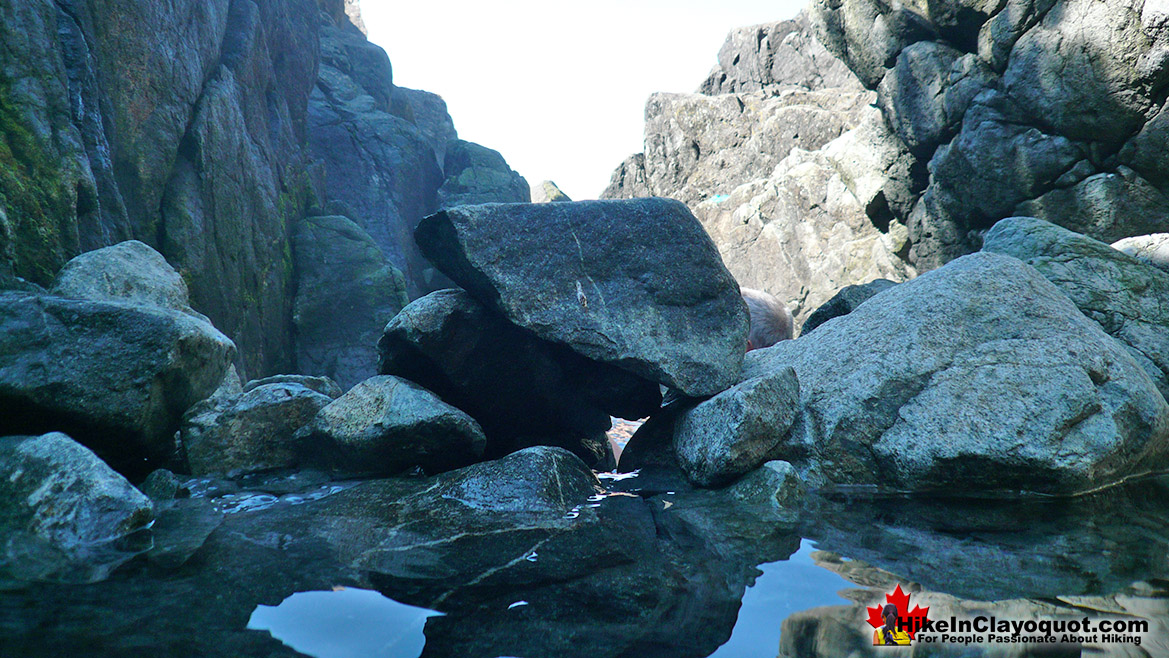 Clayoquot Hiking Trails - Lone Cone

Lone Cone is the wonderful cone shaped mountain that dominates the skyline in Tofino.  It is just 6k from Tofino on the north-western end of Meares Island.  Lone Cone is an incredible hike to do while in Tofino.  There are several attributes that make it fantastic.  First, its location.  Very close to Tofino.  Just a short and very scenic boat taxi takes you to the trailhead.  Second, is it is such an abruptly steep hike that you go from the ocean to absurdly sweeping views in just over an hour.  Due to the location of Lone Cone requiring a water taxi to access, ensures that it remains serene and quiet most days.  In the 15 minute, fast taxi, you will see a quick look at the spectacular scenery that has made Tofino famous.  Small and large islands crammed almost solid with beautifully huge trees.  Sandy beaches that make you think more that you are in Hawaii than in Canada.  Abrupt, rocky outcrops with chaotic, swirling, clear and green water that the boat taxi/tour guide continuously points to unexpectedly beautiful creatures lurking in.  Then you look up in the trees and spot a resident eagle staring menacingly down from a tree branch next to its nest full of offspring.  And that's just the first five minutes from the pier.  15 minutes from the pier you arrive at the grungy, though at the same time, strangely beautiful pier at the now abandoned town, Kakawis.  There are still a few dozen houses that line the gravel road you will see as you make your way to the trailhead.  In 2013 another trailhead was opened closer to Tofino but much further from Lone Cone.  This trailhead also has a $5 fee to access. Lone Cone is a challenging, abruptly steep and very rewarding hiking trail.  The views from the top are sensational.  The trail is a bit muddy at the start, then mostly shrouded in trees most of the way to the top, however it is relatively short at just 3.3 kilometres (drop off pier to viewpoint near the summit).  The boat taxi fare to Lone Cone is quite reasonable at just $40 for the round trip.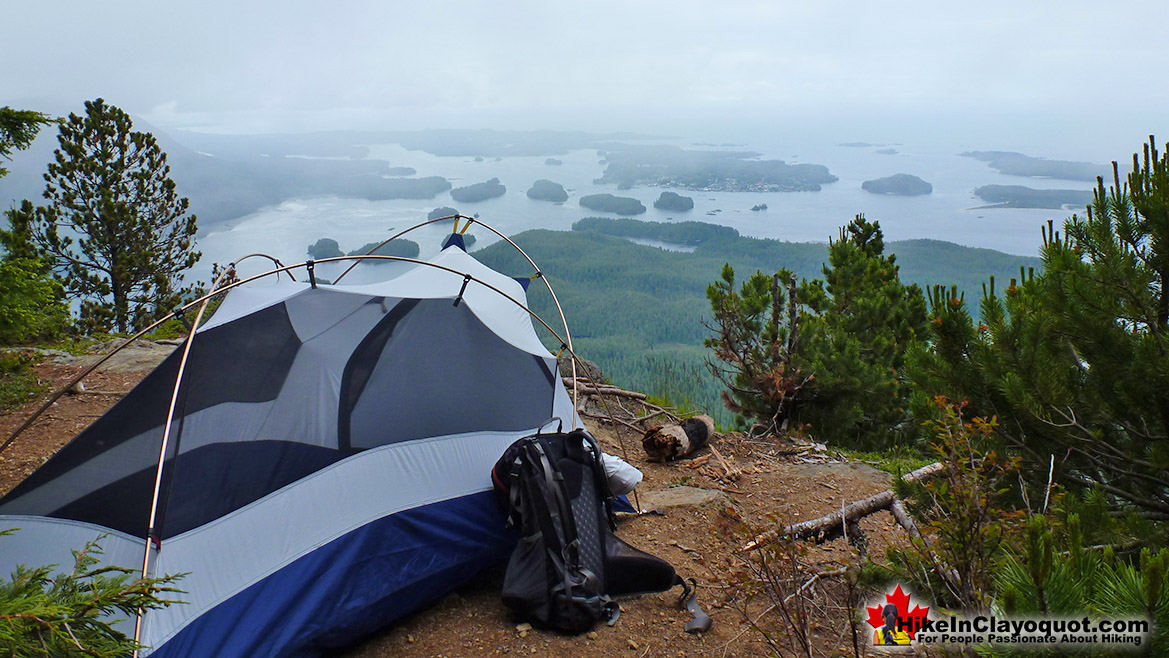 Clayoquot Hiking Trails - Vargas Island

Vargas Island Provincial Park is a popular Kayak camping destination due to its wonderful location close to Tofino.  It has wonderful, wilderness camping for free and a beautiful feeling of remoteness from the world.  And if you are lucky you might see whales pass in the distance from Ahous Bay.  The relaxing trail from the Tofino side of Vargas Island to Ahous Bay is 3 kilometres.  Making this an easy day-hike from Tofino or Ucluelet at just 6 kilometres roundtrip, trailhead to trailhead.  Most of the western and most beautiful side of Vargas Island is within the Vargas Island Provincial Park.  The massive and beautiful Ahous Bay is the camping destination for most on Vargas.  You can camp anywhere on the beautiful beaches in the park for free, and there are outhouses available at the campsites.  Though it is a popular kayaking destination, Vargas Island is so close to Tofino that many simply canoe across to it.  You never lose sight of land and are in sheltered water the entire way.  You can stash your canoe in the vicinity of the Vargas Island Inn and you will see the trail to Ahous Bay next to the Inn.  The trail is easy and well used 3k trail has little elevation gain though an amazingly varied plant life.  Remember to bring lots of water as Ahous Bay has very little drinkable water. Vargas Island is conveniently located close to, and actually visible from Tofino.  The boat taxi to the trailhead is cheap and fun. Vargas Island Provincial Park is a great way to escape the crowds at busy times.  Ahous Bay is breathtaking and camping there is free!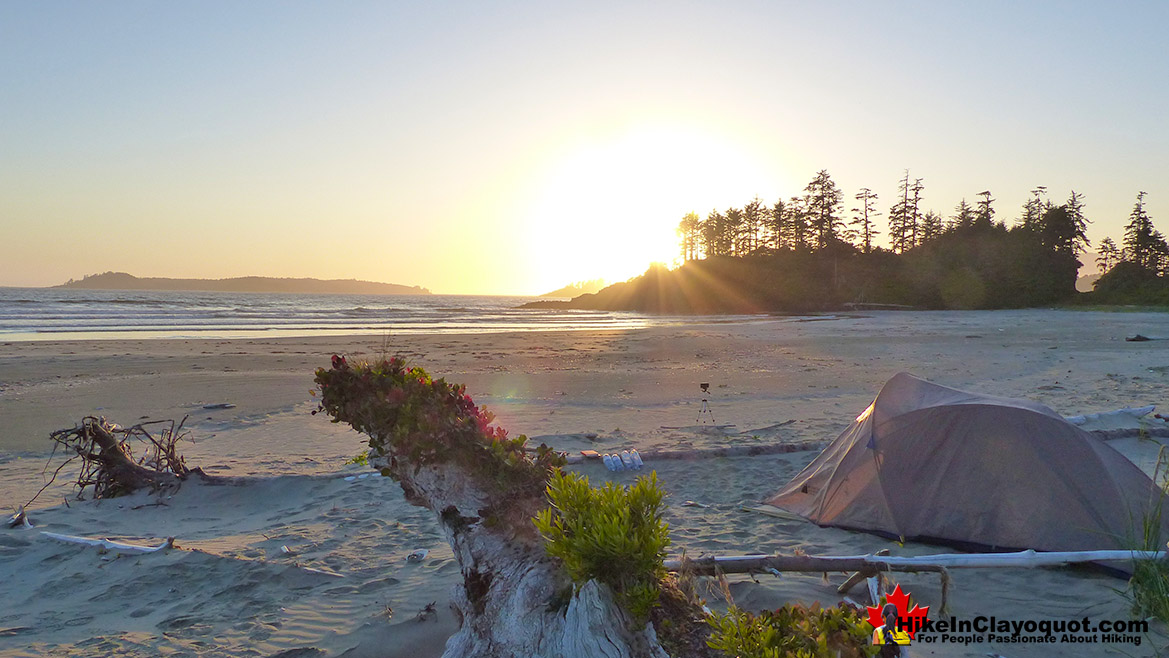 At 53 metres, Virgin Falls is quite an impressive sight.  You walk through the short, two minute forest trail to reach it and it fills your view.  It is located in a beautiful oasis it has created.  A large, ice cold and crystal clear pool with pebble rocks and waterfall battered logs that flows out in a large, meandering stream through the trees.  The whole area is surrounded by huge trees and you feel a strange sense of comfort, like you are in protected place.  And when you roll out your sleeping bag in the spectacular setting, you will never want to leave.  Though you have to travel a network of logging roads to reach Virgin Falls it is surprisingly easy to find it.  The start of the Virgin Falls Road is immediately after the famous Kennedy River bridge.  The focal point of the hugely publicized logging protests in 1993 where hundreds were arrested for blockading logging vehicles.  The Kennedy River bridge is worth a look if you haven't taken a good look before.  It spans the Kennedy River above the original and now crumbling, wooden bridge.  The current one is a massive, solid steel bridge above the old one.  Several wooden pilings are severely burned under the bridge during the protests.  You can still see some burnt pilings if you look from the small boat launch area. To get to the Kennedy River bridge from the Pacific Rim Highway is easy.  From the T junction where you either go to Tofino or Ucluelet or Port Alberni, drive for a couple kilometres in the direction of Port Alberni.  Keep your eyes out on your left for the very visible though not well marked, West Main logging road.  Follow the West Main for about 11k until you cross the large Kennedy River bridge.  About 50 metres past it you will see the road branch off to the left unmarked but called the Deer Bay Rd on Google maps, but locally known as the Virgin Falls road.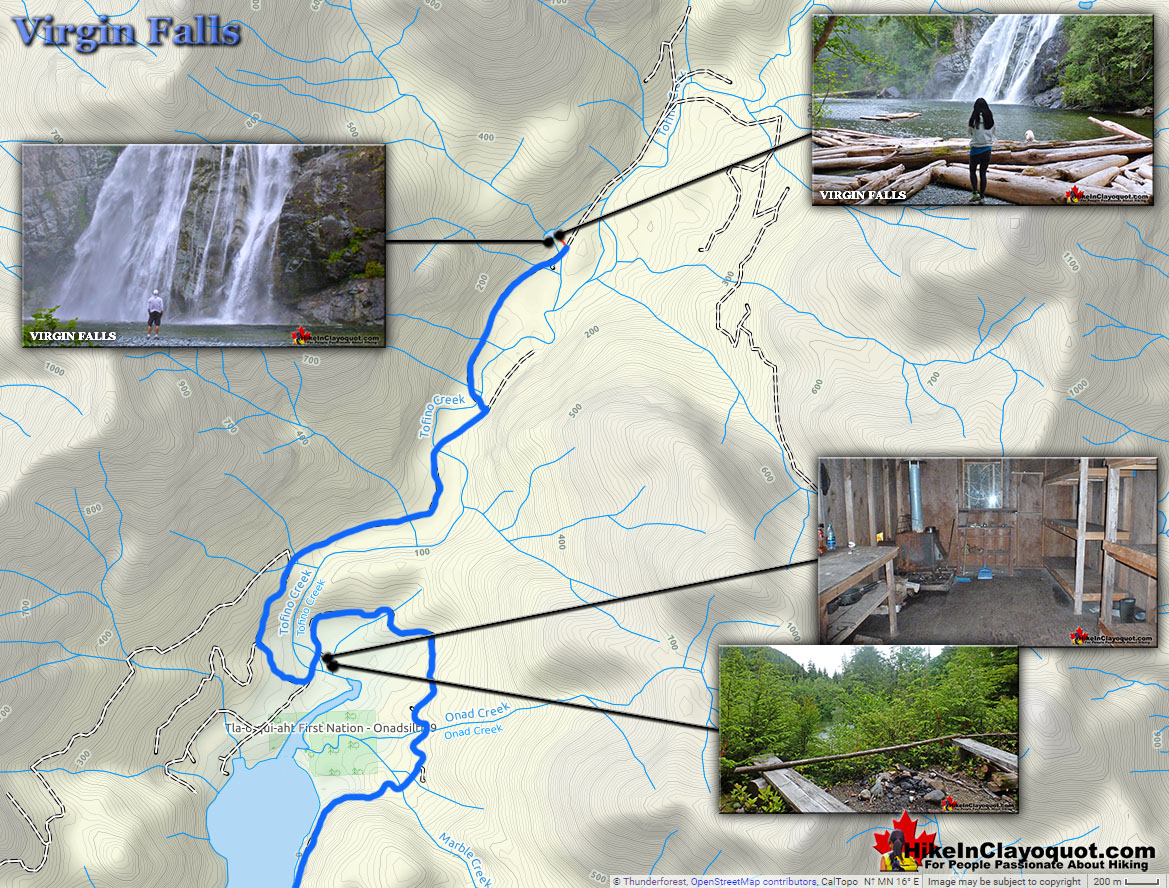 Reset your odometer to zero and follow this road (bearing left at the Y junction a few minutes in).  It is 31 kilometres(19.3 miles) from the Kennedy River Bridge turnoff to Virgin Falls.  The Falls are impossible to miss as that can be easily seen and heard from a small logging road bridge just 100 metres before the trailhead. At 28 kilometres(17.4 miles) from the Kennedy River bridge you will see an overgrown road at a 90 degree angle on your left, this is a short road to a little cabin on the river.  This road is extremely bad and overgrown, however if you are very confident in your 4x4 abilities and have a decent 4x4 you should make it.  Certainly not a good idea to attempt this short road without some sort of self rescue equipment such as a winch.  At least one deep washout may get you stuck.  There is room for 4 vehicles at the edge of the Virgin Falls Road to park and its only about a 8 minute walk to the cabin.  At 31k you will see Virgin Falls from the road, and about 100 metres (328 feet) after seeing it on your left you will spot the very visible trailhead a slight widening of the road to possibly accommodate two or three vehicles while allowing other vehicles to pass.  The trail to the falls is less than a minute long.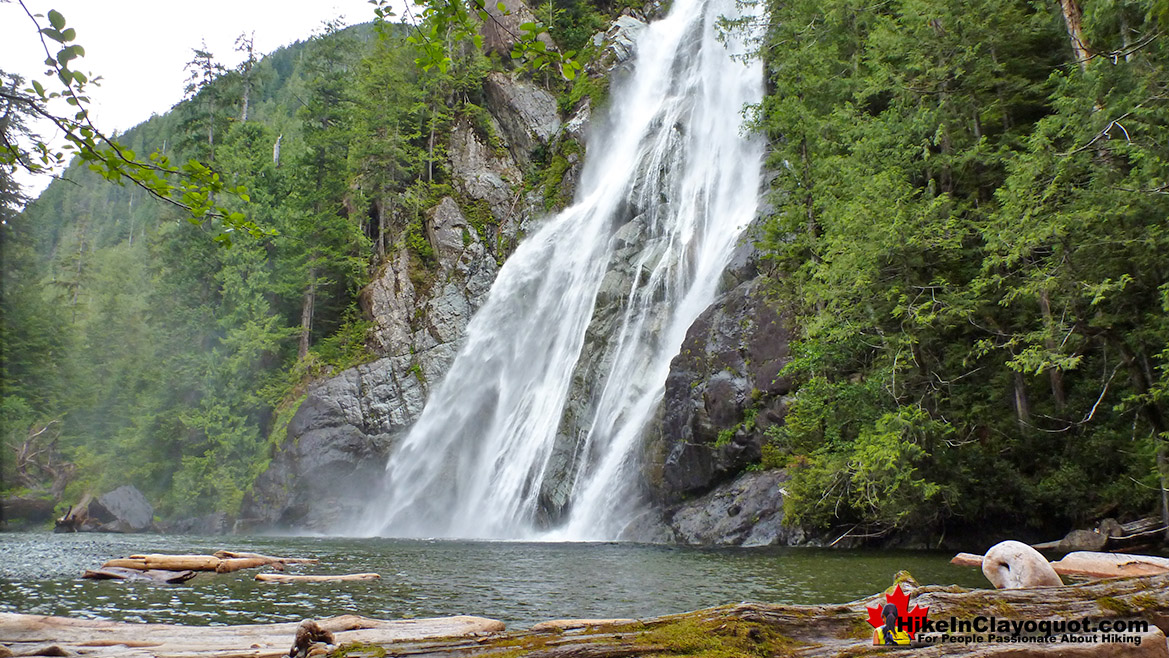 Preview All Clayoquot Hiking Trails Here...
Hike in Tofino & Clayoquot Sound Hiking

The Big Tree Trail

Hot Springs Cove

Lone Cone

Nuu Chah Nulth

Radar Beach  

Radar Hill

Vargas Island

Virgin Falls

Wild Pacific Trail
Hike the West Coast Trail

Day 1 Pachena to Darling

Day 2 Darling to Tsusiat

Day 3 Tsusiat to Carmanah

Day 4 Carmanah to Walbran  

Day 5 Walbran to Cullite

Day 6 Cullite to Camper

Day 7 Camper to Thrasher

Prologue 

1: The West Coast Trail 

2: When to Hike & Fees 

3: Trailheads 

4: Getting There 

5: Considerations 

6: Campsites 

7: Shipwrecks 

8: Routes
British Columbia Hiking Trails

Whistler   

Squamish  

Vancouver  

Clayoquot  

Victoria 

West Coast Trail