David Logan is one of the main characters on the origin and history of the West Coast Trail. Shortly after the West Coast Telegraph Line was constructed in 1889 to link the lighthouses at Carmanah Point and Cape Beale to Victoria, he was hired as a lineman to keep the section between Clo-oose and Cape Beale connected. The West Coast Telegraph Line was simply strung from tree to tree through the almost impenetrable rainforest from Carmanah Point to Cape Beale over 50 kilometres away.
West Coast Trail Shipwrecks

Alaskan at 4k 

Soquel at 5k 

Sarah at 7k 

Becherdass-Ambiadass at 8k 

Michigan at 12k 

Uzbekistan at 13.8k 

Varsity at 17.6k 

Valencia at 18.3k 

Janet Cowan at 19k 

Robert Lewers at 20k 

Woodside at 20.2k 

Uncle John at 26.2k 

Vesta at 29k 

Raita at 33k 

Skagit at 34.2k 

Santa Rita at 37k 

Dare at 39k 

Lizzie Marshall at 47k 

Puritan at 48.5k 

Wempe Brothers at 49.4k 

Duchess of Argyle at 58k 

John Marshall at 62.3k 

William Tell at 64.2 

Revere at 69k 

Cyrus at 75k
West Coast Trail Campsites

Pachena Bay Campground 

Michigan Creek at 12k 

Darling River at 14k 

Orange Juice Creek at 15k 

Tsocowis Creek at 16.5k 

Klanawa River at 23k 

Tsusiat Falls at 25k 

Cribs Creek at 42k 

Carmanah Creek at 46k 

Bonilla Creek at 48k 

Walbran Creek at 53k 

Cullite Cove at 58k 

Camper Bay at 62k 

Thrasher Cove at 70k 

Pacheedaht Campground
Logan's job was to keep it connected every time it was broken by a storm, falling tree, or any number of other reasons. This meant he was working and clearing the route that would one day become the West Coast Trail. It also meant that if there was a shipwreck along this stretch of coast, he would be called to assist survivors. This is why David Logan's name is mentioned in countless shipwreck accounts during the most brutal decades of the Graveyard of the Pacific. David Logan was born in Leith, Scotland in 1864. His family moved to the United States when he was a child. He grew up on the east coast, married and moved to San Francisco, probably around the mid 1880's. The California Gold Rush in its waning years and it is thought he moved north to the relatively unexplored Vancouver Island in search of gold. While in Victoria he chanced upon G.F. Groves who had a herd of cattle and some land up the Cheewhat River near Clo-oose. Groves asked Logan to take care of his farm while he visited his home in Australia. Logan accepted the offer and almost certainly the thought of a wide area of unexplored gold territory was part of the draw.
David Logan's Family Move to Clo-oose
It is hard to conceive of how tough people were in previous generations and in particular Logan and his wife. In 1893 they boarded a ship in Victoria with their newborn son William and headed up the West Coast into the unknown. The coastal steamer Maude stopped offshore of Clo-oose and the Logan family were ferried to the shore in dugout canoes. The began working the farm which was located up the Cheewhat River. For two years they produced meat and butter and sent it to Victoria to sell, however payment never returned. Instead of money, bundles of used clothing returned. Needing income to support his growing family, Logan took the job as lineman, a position he would hold for decades.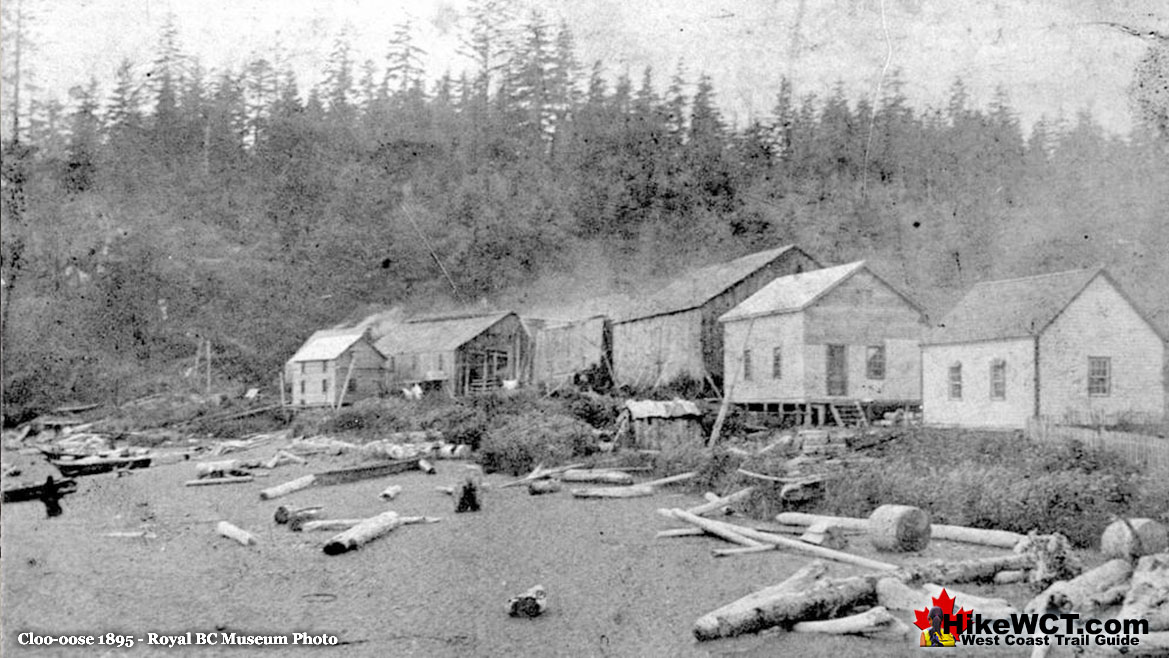 The Impossibly Difficult Lineman Job
The job of lineman for this 50km stretch of wilderness was impossibly difficult. All the ladders, bridges, cable cars, boardwalks and trail clearing were still years in the future. Logan was tasked with crawling through the rainforest, across ravines, through rivers and creeks to fix the telegraph line that frequently broke. His son William recalled how his dad would be out on the line for six weeks at a time. Storms would blow down several trees across the line over several kilometres and he would have to locate each and make repairs.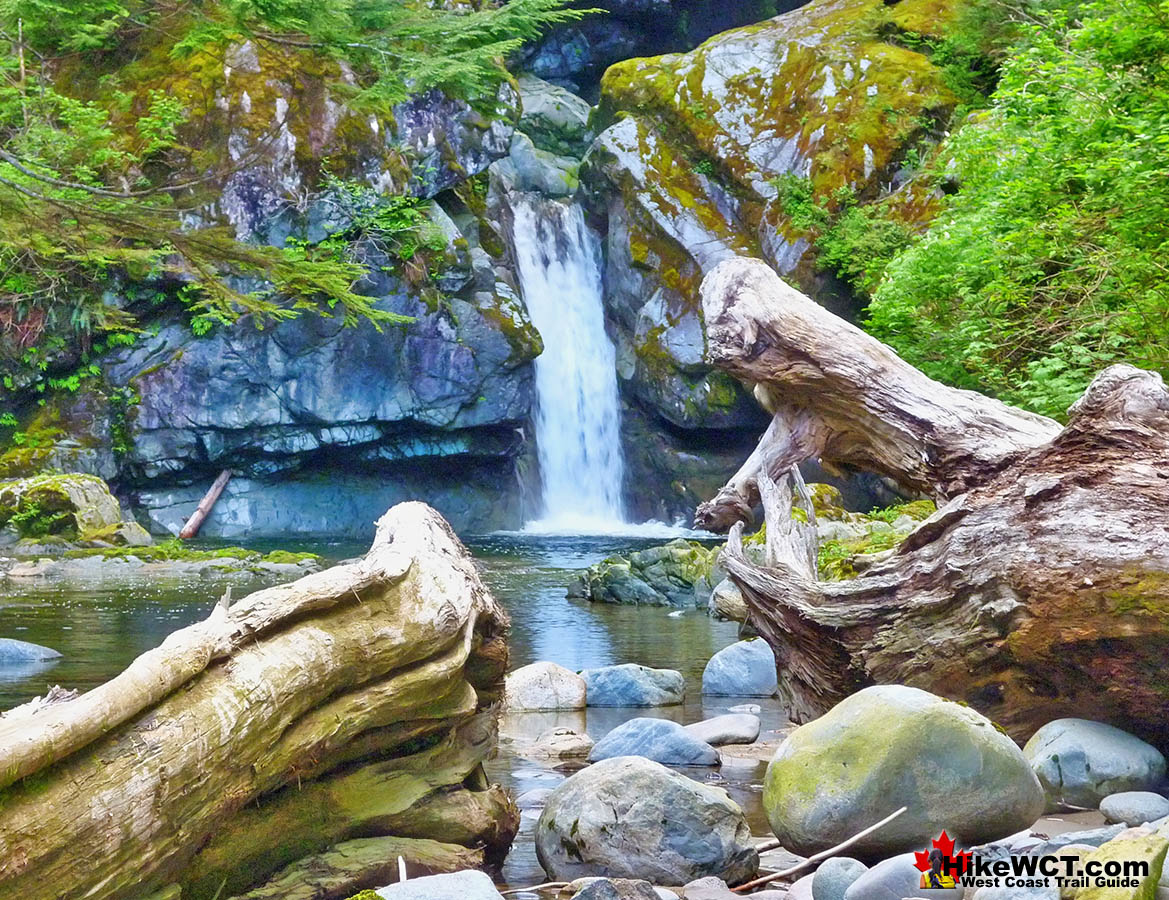 Logan even constructed a cabin out of driftwood at Darling River. The cabin had stove, bunk, table and cached food. The West Coast Trail map here shows the section of telegraph line David Logan was responsible for maintaining. At the far right of the map is the Carmanah Point Lighthouse and at the far left is Pachena Bay. Cape Beale Lighthouse is a few kilometres off the map on the left.

Logan had tremendous endurance and could navigate through the forest at about 3 or 4 kilometres an hour. Undaunted by the mud of the rainforest, he often hiked it barefoot and travelled light by living off the land. He hiked with his dog and he one said that at night he would hang on to his dog's tail to find his way through the forest. David Logan died on March 28th, 1938 at 74 years old. R. Bruce Scott's amazing book People of the Southwest Coast of Vancouver Island has a fantastic chapter on David Logan.
Logan Creek on the West Coast Trail
Logan Creek at the 56km mark of the West Coast Trail is named after David Logan. This incredible crossing is a good example of the challenges faced before the elaborate ladder structures and bridge crossings were built. None of this existed when David Logan began as lineman in the early days of trail development over a century ago.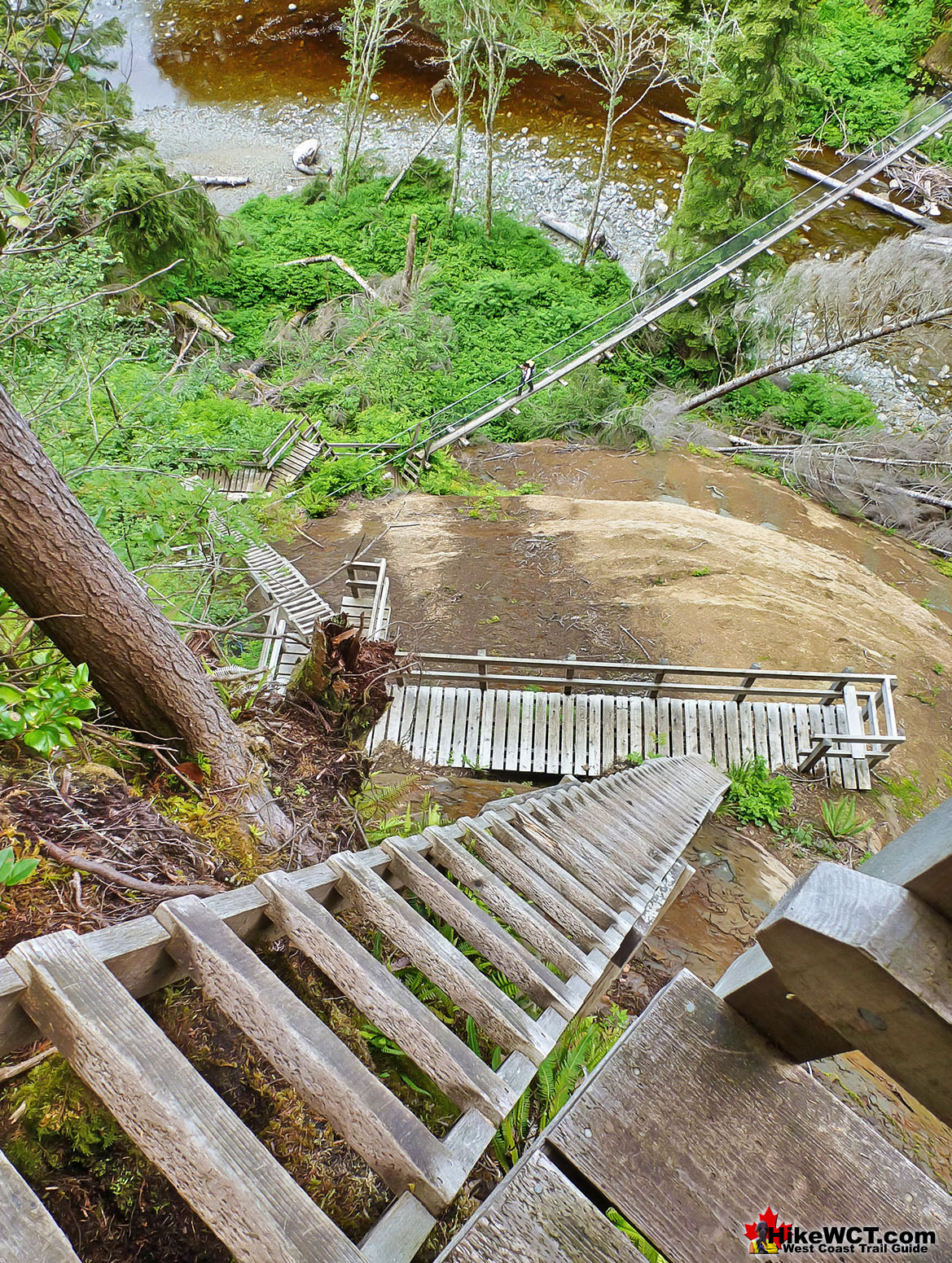 People of the Southwest Coast of Vancouver Island (1974)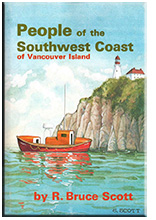 People of the Southwest Coast of Vancouver Island is R. Bruce Scott's third wonderful book on the southwest coast of Vancouver Island. His first book was "Breakers Ahead!", which outlines the incredible number of shipwrecks along the west coast of Vancouver Island. His incredible knowledge of the area allowed him a deeper understanding of the tragic events along the coast. "Breakers Ahead!" is arguably the best book on West Coast Trail shipwrecks. While "Breakers Ahead!" was written to motivate the creation of the park that would encompass the West Coast Trail, R. Bruce Scott's second book, Barkley Sound A History of the Pacific Rim National Park Area lays out a wider history of the area. This amazing book published in 1972 has a chapter on Pacific Rim National Park, a few chapters on some of the first European explorers. He then has chapters covering some of the trading posts and early settlements along the islands west coast. He has an interesting chapter on the Cape Beale Lighthouse, the Carmanah Point Lighthouse and the Pachena Point Lighthouse. Another chapter is devoted to the history of the West Coast Telegraph Line. The extraordinary story of the Valencia shipwreck he tells beautifully in Chapter 13. Chapter 16 is all about the West Coast Lifesaving Trail. He also has several chapters on the history of Bamfield where he resided for much of his life. Scott's third book of the trilogy is People of the Southwest Coast of Vancouver Island. Published in 1974 this amazing book delves into the lives of many noteworthy people along the west coast of Vancouver Island. Daykin of Carmanah is an amazing chapter on the history of the lighthouse keeper that we hear about often when reading about West Coast Trail shipwrecks. People of the Southwest Coast of Vancouver Island Continued here...
"Breakers Ahead!" (1970)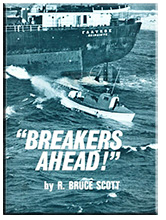 "Breakers Ahead!" written by R. Bruce Scott, who began living in Bamfield in 1930 and spent the next few decades pushing for the development of a park on the west coast of Vancouver Island.  After he retired in 1960, he began researching and writing this book, which he hoped would illustrate the interesting history of the coast and encourage its development into a park.  In 1970 his book was published and the West Coast National Park was created.  His excellent and comprehensive book included all the shipwrecks along the West Coast Trail as well as a few as far north as Barkley Sound and south, almost as far as Victoria. West Coast Trail related shipwrecks he writes about are the William, Cyrus, John Marshall, William Tell, Becherdass-Ambiadass, Revere, Lizzie Marshall, Duchess of Argyle, Woodside, Dare,  Sarah, Michigan, Mascotte, Dart, Janet Cowan, Puritan, Vesta, Wempe Brothers., Valencia, Skagit, Soquel, Eagle, Renfrew, Alaskan, Santa Rita, Robert Lewers, Raita,  Varsity and Uzbekistan.  Other ships beyond the West Coast Trail he writes about are: Swiss Boy, D.L. Clinch, Dance, Maria J. Smith, Gem of the Ocean, Pacific, Orpheus, Glen Fruin, Belvidere, Rustler, Champion, Lily, Ericsson, Coloma, Nika, Tuscan Prince, Tatjana, Cleveland, Marquis of Dufferin, Vidette, Laura Pike, Liberty Ship, St. Clair, Armentieres, Thiepval, Warrimoo, Nereus, Pass of Melfort and Glafkos. This book is a tremendous collection of shipwreck history by an author that loves the subject and lived along the coast for decades. Without his influence and this book, the West Coast Trail may have never been created. You can find this wonderful book, "Breakers Ahead!" almost everywhere online these days and often at a good price. "Breakers Ahead!" was followed two years later by Barkley Sound A History of the Pacific Rim National Park Area and in 1974 Scott finished the trilogy on this subject with his third book People of the Southwest Coast of Vancouver Island. "Breakers Ahead!" continued here...
The Valencia Disaster

The West Coast Trail by Day

Explore BC Hiking Destinations!