Routes
&
Itineraries
for
the
West
Coast
Trail
The
West
Coast
Trail
Guide
West
Coast
Trail
Shipwrecks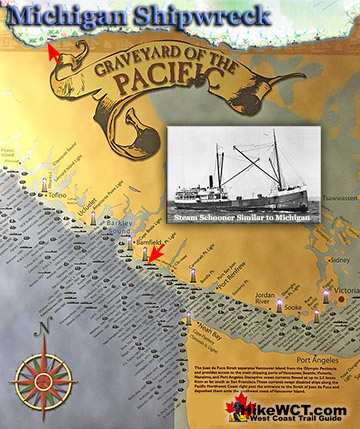 The Michigan shipwreck on the
West Coast Trail
is the first one you can see and actually touch, which is incredible since it is well over a century old.  On January 21st, 1893 this 695 ton steam ...
Read more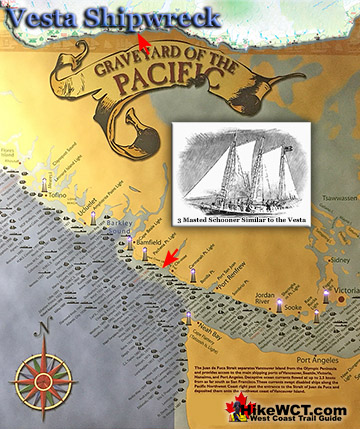 At about 29 kilometres on the
West Coast Trail
you will pass the Vesta shipwreck. This 3 masted schooner of 286 tons was wrecked here on November 10th, 1897. This 128 foot long sailing ship was ...
Read more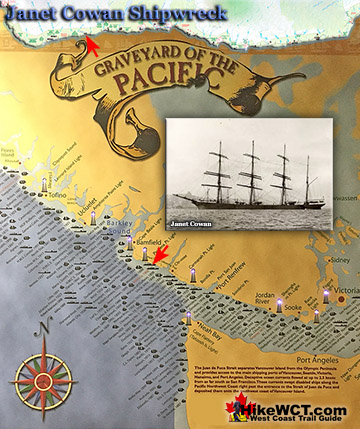 The Janet Cowan was a steel sailing vessel, four-masted, bark rigged, of 2498 tons built at Glasgow in 1889. She was wrecked at about the 19 kilometre mark on the
West Coast Trail
with several lives ...
Read more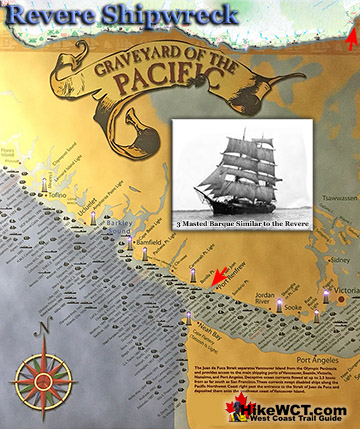 The Revere shipwreck lays at the bottom of Port San Juan between
Thrasher Cove
and Owen Point. Thrasher Cove is the first or last
West Coast Trail
campsite you will encounter. She was a large 3 ...
Read more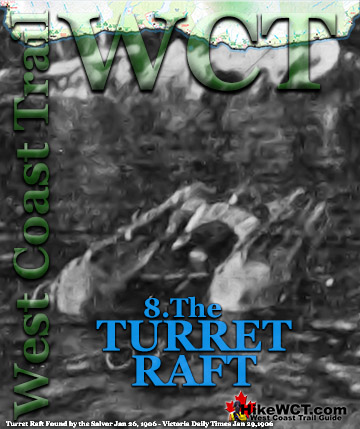 When the survivors on the second raft were rescued by the Topeka just five hours into their ordeal and so close to death that they could barely stand, one of them asked about the first raft.  It was ...
Read more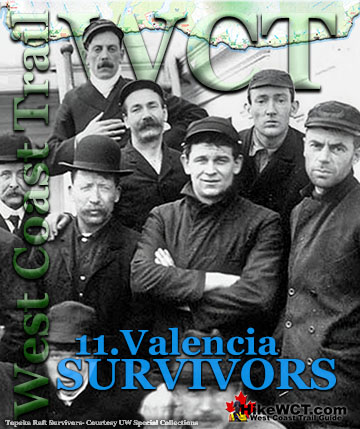 There were just 38 survivors of the Valencia shipwreck.  An estimated 140 people lost their lives on the ship over the course of 36 hours.  The 38 survivors escaped the ship at different times and ...
Read more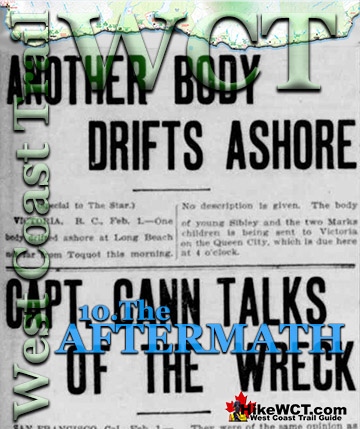 A week after the wreck of the Valencia, The Daily Colonist of Victoria ran a cover story about the aftermath of the disaster and the horrific scenes that continued to be found. Sydney Van Wyck of ...
Read more
West
Coast
Trail
Campsites
Explore
BC
Hiking
Destinations!