Routes
&
Itineraries
for
the
West
Coast
Trail
The
West
Coast
Trail
Guide
West
Coast
Trail
Campsites
West
Coast
Trail
Shipwrecks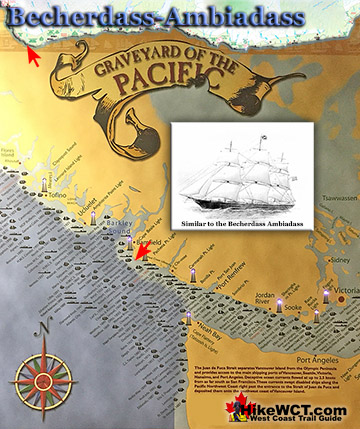 Built in 1864 the 1376 ton, 3 masted ship, 
Becherdass-Ambiadass
was wrecked on the rocky shore only a half mile from Pachena Point. This British ship was returning from Shanghai to 
Moodyville (now North
...
Read more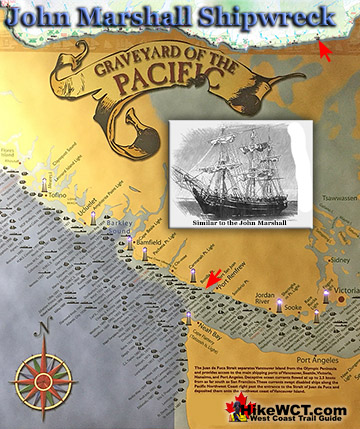 The
John Marshall
shipwreck is located under the waves just outside the mouth of
Camper Bay
at the 62 kilometre mark of the
West Coast Trail
. Owing to the great difficulty and slow progress hikers are ...
Read more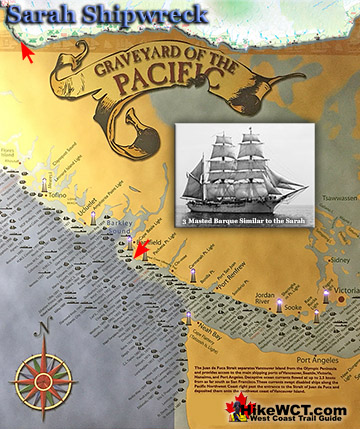 Seven kilometres into the
West Coast Trail
you will come to the shipwreck of the 
Sarah,
 hidden under the waves near the shoreline route of the trail. The
Sarah
was a three masted barque of 1206 ...
Read more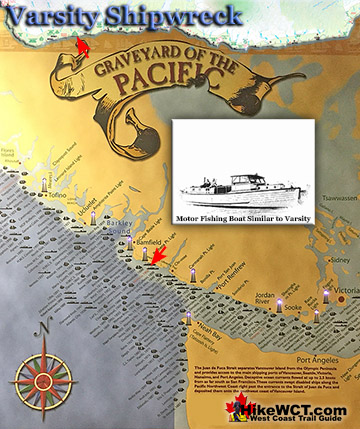 The
Varsity
was a fishing boat of 90 tons, returning to
Puget Sound
from California on February 5th, 1940. In bad weather and stormy seas, she abruptly struck the shore, just a kilometre past, what is ...
Read more
Explore
BC
Hiking
Destinations!