The West Coast Trail hiking season is confined to just five months due to the dangerously stormy weather during the winter months. In the winter the days are short, tides are high and heavy rain and strong winds are frequent. Hiking the trail in the summer is tough enough without these added challenges. To keep the trail from becoming overcrowded, overnight hikers are limited to 75 per day. 
Chapter 2: When to Hike & Fees
Hike the West Coast Trail

Day 1 Pachena to Darling

Day 2 Darling to Tsusiat

Day 3 Tsusiat to Carmanah

Day 4 Carmanah to Walbran

Day 5 Walbran to Cullite

Day 6 Cullite to Camper

Day 7 Camper to Thrasher

Michigan Creek at 12k

Darling River at 14k

Orange Juice Creek at 15k

Tsocowis Creek at 16.5k

Klanawa River at 23k

Tsusiat Falls at 25k

Cribs Creek at 42k

Carmanah Creek at 46k

Bonilla Creek at 48k

Walbran Creek at 53k

Cullite Cove at 58k

Camper Bay at 62k

Thrasher Cove at 70k
Reservations must be made far in advance and spaces run out quickly. You can begin reserving through the Parks Canada Reservation System from January for the upcoming summer. Maximum group size is limited to 10. They do allow school groups to exceed this up to 18 hikers but only May 1st to 20th. The West Coast Trail is a 5-7 trek in very difficult terrain. The trail is almost constantly winding through dense British Columbia coastal rainforest.
Boardwalks are in various stages of disintegration due the wet climate and remoteness of the trail.  Extensive muddy sections of knee deep mud are commonplace and preparing for this fact will largely impact your enjoyment of the trail. The southern end of the West Coast Trail, the last(or first) 22 kilometres of trail are very challenging.  Scrambling over slippery tree roots, through deep mud while the trail zig-zags left, right, up and down. When you are not slogging through these brutal sections, you are climbing or descending precarious wooden ladders through enormous ravines and up steep cliffs.   Trail maintenance is a constant and losing battle for this wonderfully battered jungle trail.  Hiking this section is mostly done at a shockingly slow pace of 1 or 2 kilometres an hour(compare that to a normal hiking pace of 5 kilometres an hour on flat ground). Adding to this, you quickly discover, is that the kilometre marking don't take into account the innumerable contours of the trail. The West Coast Trail gets a staggering 330 centimetres(130 inches) of rain per year. Periods of heavy rain are common even in the summer months.
Orange Juice Creek Near KM15 West Coast Trail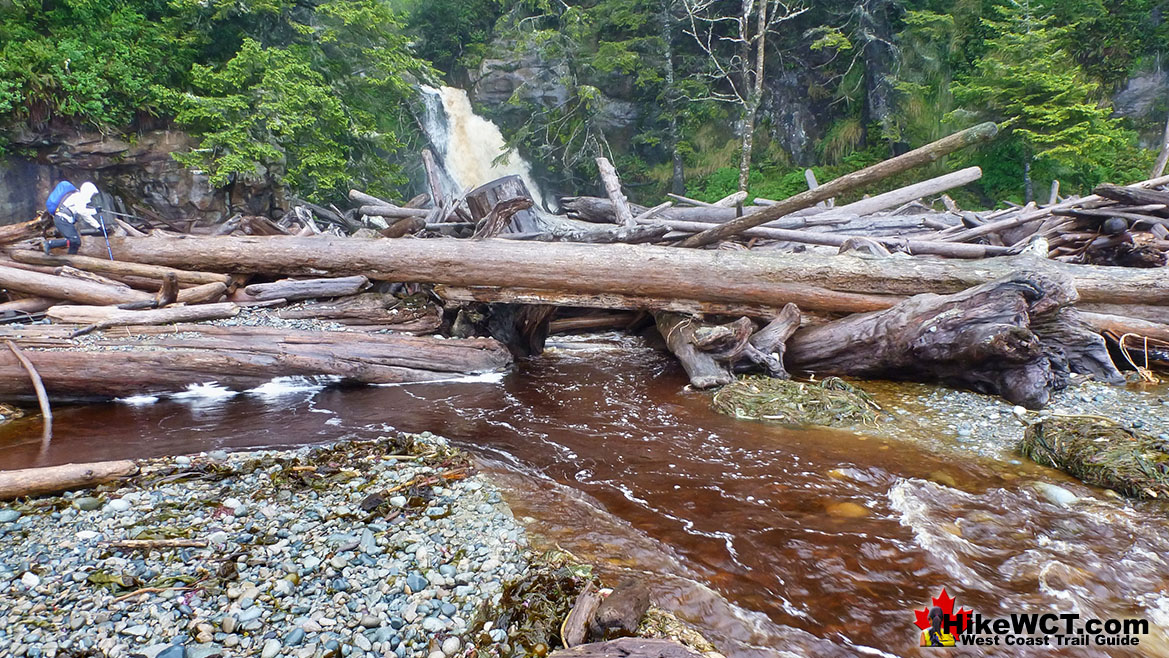 During heavy rain, rivers that could previously be walked through, have to be waded through with great difficulty and danger. It is not unusual for hikers to be stranded on one side of a river waiting hours or even days to cross due to fast moving, waist deep water blocking their way. The average temperature along the West Coast Trail in July and August is 14c(57f). Cool temperatures along with frequent rainfall raise the risk and incidents of hypothermia and accidents resulting in injury. Proper waterproof gear and especially footwear is essential for comfort and safety on the trail. Those with back backs and knees will find them aggravated on the long and tortuous trail. 
When the West Coast Trail is Open
The West Coast Trail is only legally accessible from May to September. Parks Canada restricts access to the trail the rest of the year due to the brutal west coast weather. Winter storms, high tides and short days would make this already difficult trail murderously treacherous. There are several restrictions on the West Coast Trail designed to minimize the impact on the area by hikers and maximize the enjoyment of visitors. Hikers travelling in groups can be no larger than 10. The recommended minimum age for hikers is 12, however children 6 and older are allowed to hike the trail. Pets and firearms are not permitted on the West Coast Trail.
Darling Falls Near KM14 West Coast Trail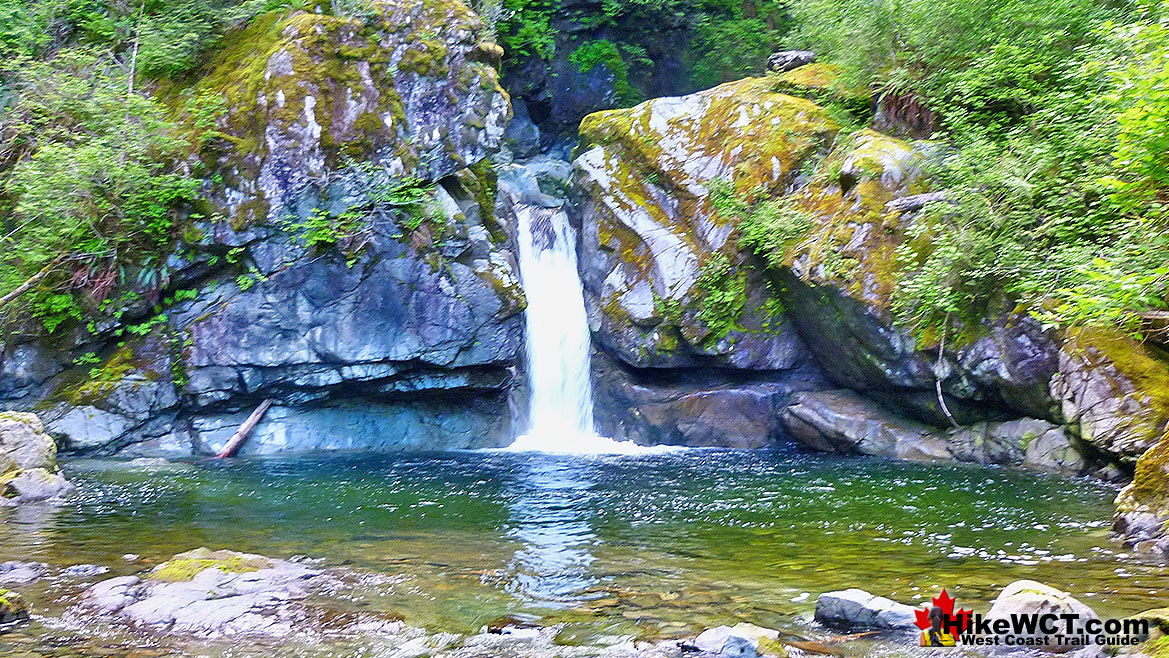 West Coast Trail Park Permit Required
All access to the West Coast Trail requires a Park Entry Pass on the Parks Canada Reservations System. Permits and passes can be purchased at the Parks Canada West Coast Trail Information Centres at either end of the trail. The Gordon River Info Centre is located in Port Renfrew at the south end of the trail. The Pachena Bay Info Centre is located at the north end of the trail in Bamfield. There is a third way to access the West Coast Trail and buy a permit, however it is located halfway along the trail and therefore cuts the trail in half. It is located at Nitinat at the Ditidaht First Nation Visitor Centre in Nitinat Village.  Along with only having half of the trail to enjoy, you still pay full(entire length) price as well as an additional hefty charge for a water taxi to the trailhead. This access point came into being as the result of being occasionally used as an exit point for hikers quitting the trail halfway. At the Nitinat ferry crossing on the trail weary hikers are offered this exit which comes with an extortionate price tag. 
Hole in the Wall Near KM27 West Coast Trail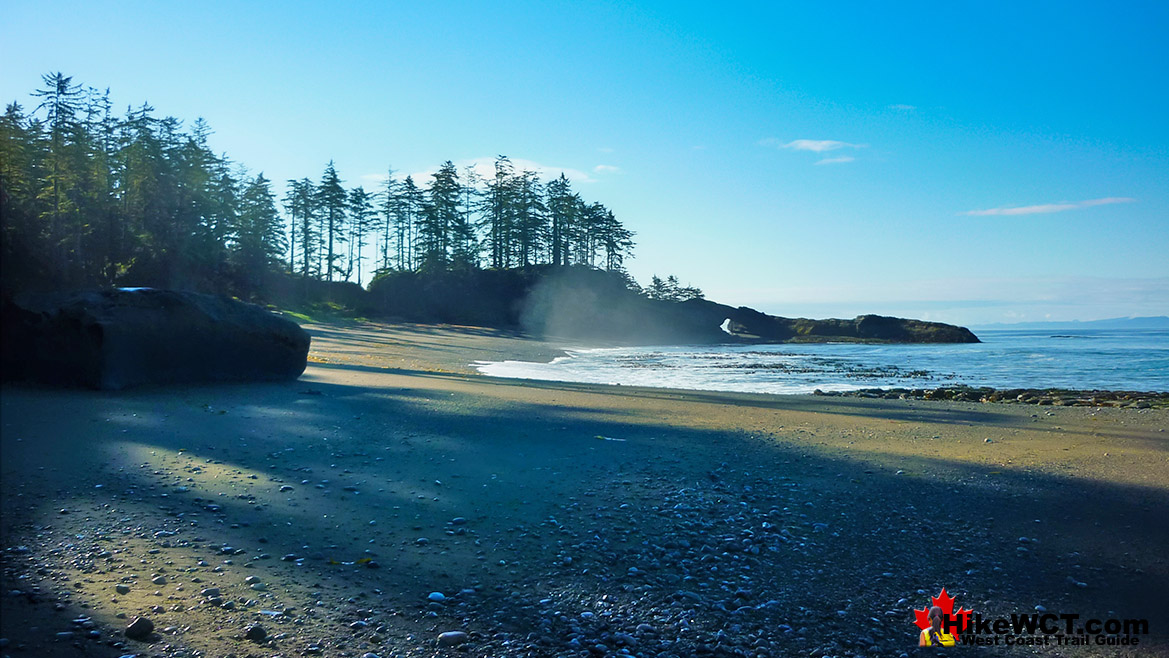 Various West Coast Trail Permits
All West Coast Trail hikers are required to carry a park permit at all times. Day users must have a Park Entry Pass which allows you to enter and exit the trail on the same day and same location. Overnight users require a West Coast Trail overnight use permit. When making reservations you should have organized the number of hikers in your group, preferred start date and an alternate start date.  Where you want to start, Pachena Bay(north end) or Gordon River(south end nearest to Victoria). You can pay by Visa, MasterCard or American Express and they will ask for an email address to send you confirmation and orientation information. If you want to access the trail at Nitinat(halfway along the trail) you need to go through the permit process, orientation and payment at the Ditidaht First Nation Visitor Centre in Nitinat Village. You have to email ahead to book your orientation at [email protected]. Requests can be made one week in advance but no less than 24 hours in advance of arrival time. Eight overnight hike spaces are available to Nitinat per day, and only available on a first come, first served basis.
Tsusiat Falls Near KM25 West Coast Trail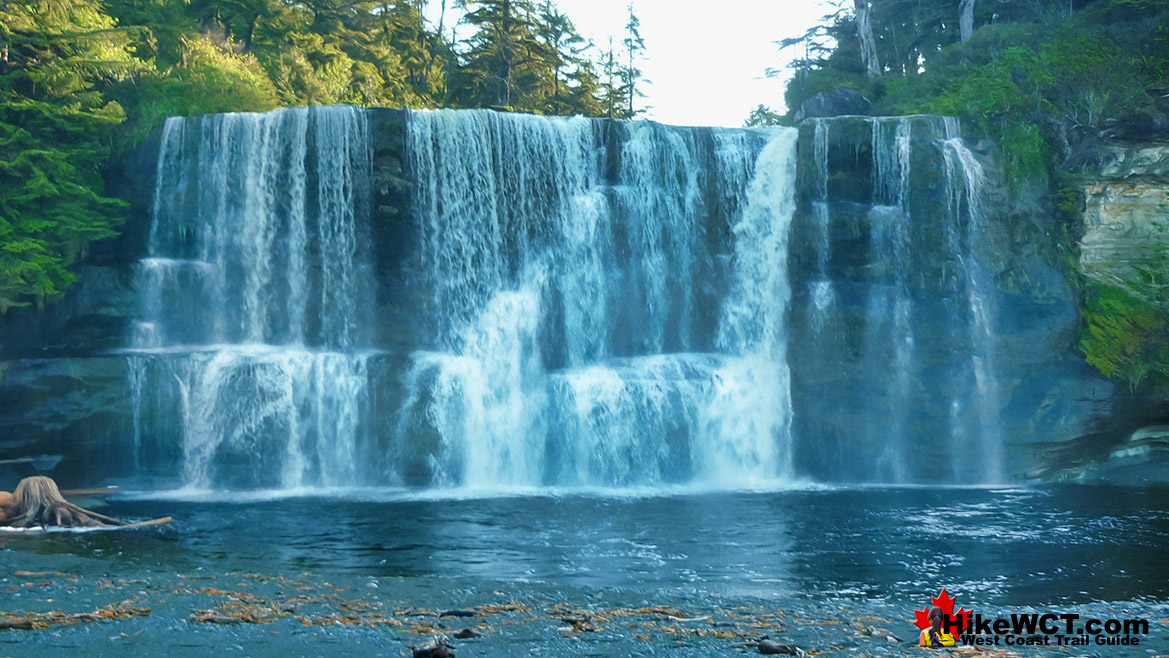 West Coast Trail Fees
West Coast Trail fees are fairly expensive, however most of the fees go into maintaining the trail and rescue services. If you are hiking the whole trail from one end to the other you will have to pay the West Coast Trail Overnight Use Fee: $127.50 and two ferry crossing fees, Gordon River: $16 and Nitinat Narrow: $16. These three fees are mandatory and if you reserve ahead the reservation fee is $24.50. In recent years you could walk onto the trail without a reservation reliably early and late in the season. Those days are gone now and you pretty much have to make a reservation to get on the trail. Added up and including the reservation fee, the cost to hike the West Coast Trail adds up to $184.00. This is payable when you reserve online at:
When making a reservation, have the following ready:
Preferred start dates and alternate dates; the number of hikers in your group; the names and emergency contacts for hikers; means of payment: Visa, MasterCard or American Express; the access point you plan to start from - Pachena Bay, Gordon River or Nitinaht; and an email address to send confirmation and orientation information.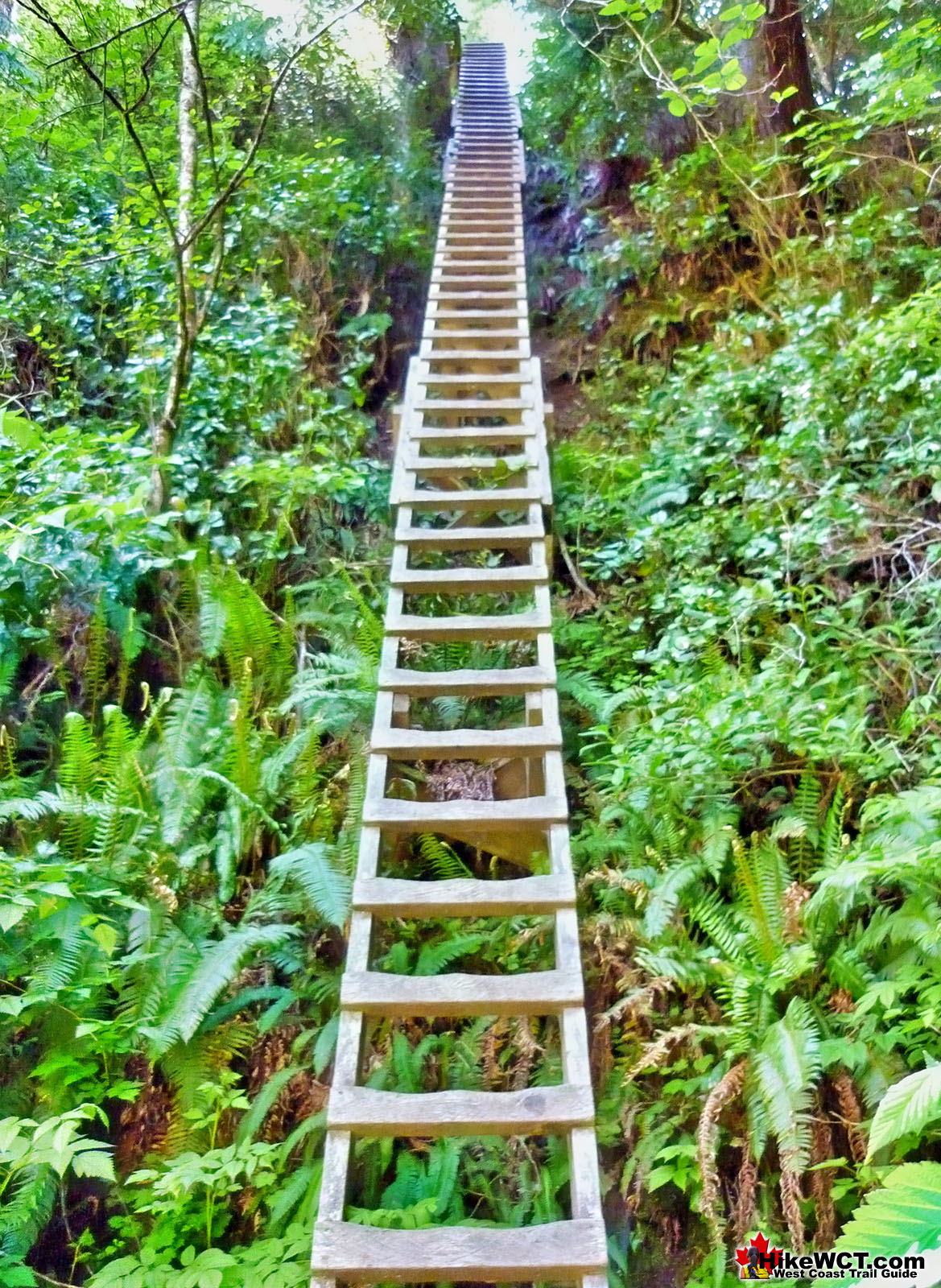 Cancellation policy
A non-refundable reservation fee is applicable when making a reservation through the Parks Canada Reservation Service. West Coast Trail overnight use permits are eligible for refund up to 21 days or more before the hike start date. A cancellation fee per booking applies. Refunds for unused ferry services are available at the WCT Information Centres and Ditidaht First Nation Visitor Centre.
Carmanah Creek Near KM46 West Coast Trail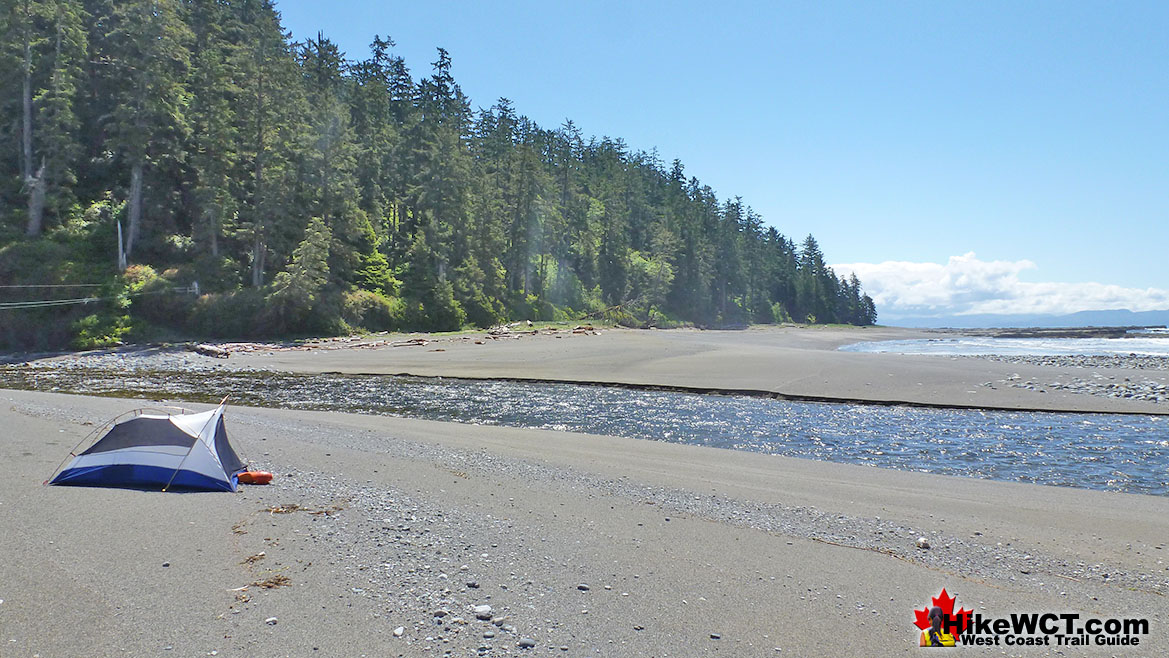 West Coast Trail Orientation
All overnight users of the West Coast Trail must participate in a 30 minute orientation session before they receive their park pass. The orientation is designed to provide hiking information as well as reduce the number of hiker injuries by outlining dangers to avoid. The sessions are interesting and very informative, however, they are only offered at 10am and 2pm from either end of the trail. Therefore you will have to start the trail after these times unless you take the orientation the day before and spend the night before hiking. The 2pm orientation is not advised if starting the trail from the very challenging, Gordon River(south) end of the trail. This part of the trail is slow going and hikers may end up hiking in the dark on their first day and risking injury as a result. Starting after 2pm is a popular option from the Bamfield(north) end of the trail as the first section of trail is easy and comparatively quick. If you plan on arriving after 1pm on your reserved start date, be sure to contact the West Coast Trail Information Centre before to prevent your space being given to stand-by hikers. Next: Trailheads
West Coast Trail Guide

Explore BC Hiking Destinations!