Day 7 on the West Coast Trail from Camper Bay to Thrasher Cove or further along to the Gordon River trailhead gives you two route options. After three kilometres of very challenging rainforest hiking from Camper Bay, you come to a beach access route that branches off the main trail. From here(65k) you can hike along the coast all the way to Thrasher Cove. Or you can hike this section completely inland.
Cable car at Camper to start your day!

Amazing beach route starts at 65k

Rock shelf full of tidal pool sea life

Rock shelf is slippery, yet easy hiking

Extraordinary ocean eroded cliff faces

Flowers at 150 Yard Creek are stunning

Off the radar campsite at 150 Yard Creek

Owen Point sea caves are beautiful

Can only hike beach route at mid to low tide
Fresh water sources are hard to find
Hike the West Coast Trail

Prologue 

1: The West Coast Trail 

2: When to Hike & Fees

3: Trailheads 

4: Getting There

5: Considerations 

6: Campsites

7: Shipwrecks 

8: Routes

Day 1 Pachena to Darling

Day 2 Darling to Tsusiat

Day 3 Tsusiat to Carmanah

Day 4 Carmanah to Walbran

Day 5 Walbran to Cullite

Day 6 Cullite to Camper

Day 7 Camper to Thrasher

Michigan Creek at 12k 

Darling River at 14k 

Orange Juice Creek at 15k 

Tsocowis Creek at 16.5k 

Klanawa River at 23k

Tsusiat Falls at 25k 

Cribs Creek at 42k 

Carmanah Creek at 46k 

Bonilla Creek at 48k

Walbran Creek at 53k 

Cullite Cove at 58k 

Camper Bay at 62k 

Thrasher Cove at 70k
The difference between these two routes is considerable and the beach route is better in almost all respects. The inland route is challenging, much like the previous few kilometres, but not quite as tough. You don't see much of interest and it is a bit of an endurance test all the way to the Thrasher Cove trail down to the beach at 70k. The beach route, however, is one dramatically changing coastal shelf after another. This rocky shelf coastal route is a sharp contrast to the sandy beaches of previous days of the West Coast Trail.
They are quite beautiful and you find yourself hiking across one massive and very flat, rock surface and suddenly it ends at a vertical drop to the ocean of a dozen metres. After taking in the breathtaking view, you realize you have to hike toward the treeline and skirt the bay to get to the other side. This happens a lot, and each one is a marvelous game of which way should we go? One wrong turn and you come to a dead end chasm only a couple metres wide, but wide enough to circle back around to a route that doesn't offer the chance of falling several metres into the swirling torrent of water below! Many of the the sections along the ocean have tidal pools full of sea life. These sections have the hazard of slippery sections that catch you off guard and send you crashing backwards with your pack breaking your fall if you are lucky.
Some sections are pretty slimy and not terribly scenic, but much of the route is a dramatically changing glimpses of ocean views and bizarre erosion-formed curiosities. The abrupt rock cliffs that separate most of the route from the forest a dozen metres above is a geological work of art. Relentless waves have carved the rock into a slope upwards then curves into an overhang with the rainforest spilling over. Some massive trees in the forest above are being cut away from the forest and are ominously leaning toward the ocean.

Sections of the flat rocky coastline are mysteriously banded. You you have a raised section, almost like a road, running parallel to the coast. Past it you have a dozen metres of flat rock about a metre lower, then another raised band further out by the ocean waves. These curious ridges entice you to follow them further and further out, but almost always leave you splashing through knee deep, ocean water sections to regain the route. When you received your tide table instructions on your West Coast Trail orientation session, this section of trail was a big reason being aware of tides is so important. You have to hike this beautiful, coastal route when the tides are low. The problem is that there is quite a lot to see on the way and you have to give yourself plenty of time and plenty of leeway to get through safely.
The two campsites at this end of the West Coast Trail are not the best. Camper Bay is always very busy and Thrasher Cove is less busy, but much smaller, so can accommodate far fewer campers comfortably. Added to that Thrasher Cove is often lacking fresh water as the streams often run dry after periods of dry weather, especially mid to late summer. If you are adventurous and inclined to camp away from the crowds you will a nice place for your tent near 150 Yard Creek, just past 66k on the West Coast Trail map. You likely will find no trace of previous campers, however you will find a very nice little sandy beach, perfect to set up camp. 150 Yard Creek is easy to miss if you are not looking for it. The water often flows over the rock shelf to the ocean as a paper thin sheet of water. One tell-tale sign you have found 150 Yard Creek is the stunning forest of yellow flowers that cover the rock face surrounding the creek. The flowers catch your attention so much, that you barely notice the thin layer of water that is 150 Yard Creek.

150 Yard Creek is just one of the many memorably sights on this coastal route, but the most stunning highlight is about to come. The sea caves at Owen Point are a wonderfully eroded and often vividly coloured little world nestled along the edge of the point. If you are lucky and explore them on a sunny day, you will find the sides of the caves glowing bright green and orange. What an amazing little place carved by centuries of ocean waves. On a beautiful day on the West Coast Trail, this spot might find its way to the top of your list of memorable moments from the trail. The Owen Point sea caves are reason enough to hike the coastal route over the inland route. The inland route is lacking in comparable highlights and Owen Point is just one of many spots that are amazing on the coast route. As long as you judge your tide tables correctly, you will have a safe and very enjoyable day hiking the endlessly surprising West Coast Trail.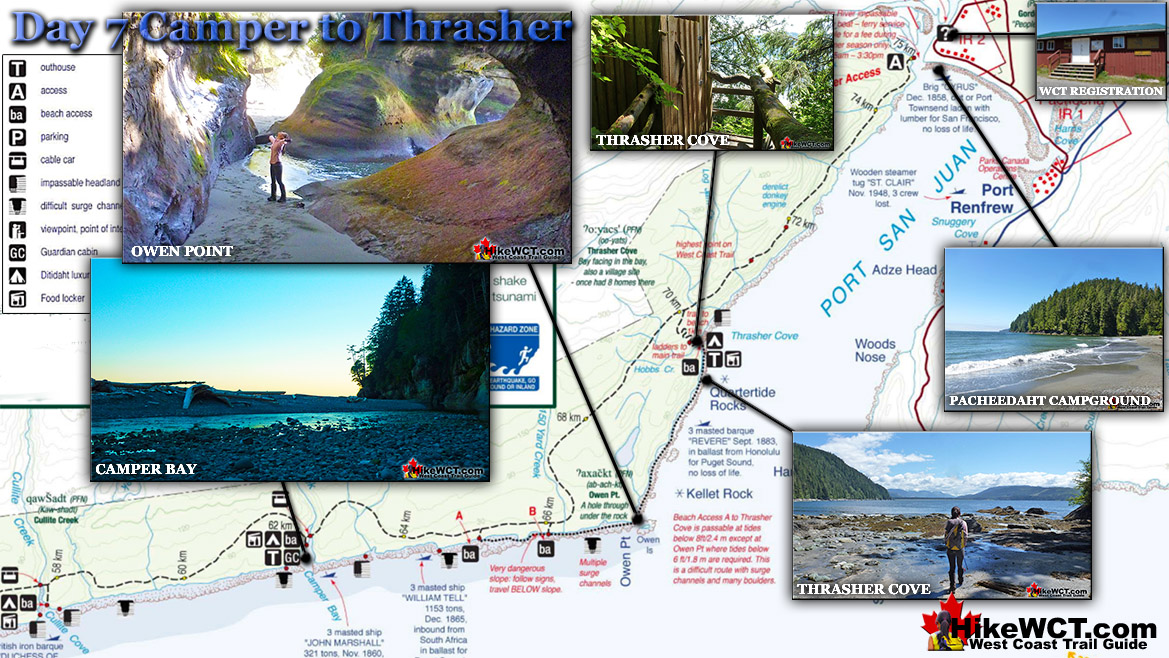 Camper Bay Campsite at 62k

Camper Bay is beautiful, similar to Cullite Cove there are cliffs on either side. The downside is crowding.  It's the first really good campsite from the Port Renfrew direction. Still, it's spacious.  Another downside is the proximity of Port Renfrew. It's hard to get the wilderness feeling when you can see boats pass every minute and cruise ships in the distance. Camper Bay is often home to quite a number of campers. You always find the campsite lined with tents along the treeline packed so close together as to hear each others conversations. A bit too cozy, but on the other hand, Camper Bay is a great place to socialize with fellow campers. The linear tent site arrangement make it necessary for you and others to walk past several tents to do almost anything. So you get fairly well acquainted with your fellow West Coast Trail hikers.

John Marhshall Shipwreck at Camper Bay at 62.2k

The John Marshall shipwreck is located under the waves just outside the mouth of Camper Bay near the 62 kilometre mark of the West Coast Trail. Owing to the great difficulty and slow progress hikers are forced to take on this section of the West Coast Trail, nearly everyone camps at Camper Bay. If you do, you will be sleeping near this shipwreck that occurred here in 1860. The John Marshall was an old eastern built, 3 masted ship of 321 tons. Sailing in from San Francisco with a crew of 10, she was heading to Seabeck, Washington in ballast to pick up a load of lumber. Off Cape Flattery the John Marshall met a raging storm that left her beached in front of Camper Bay. There seem to be few details of this shipwreck, however, local natives reported that two ships came ashore from the storm that night. It had been assumed that she foundered off Cape Flattery with no survivors. So it was quite a surprise to find her ashore at Camper Bay, with her hull visible at low tide and her masts, spars and rigging scattered on the beach. There are no details of deaths from this shipwreck, so it is assumed that there was no loss of life.
William Tell Shipwreck at 64.2k

The William Tell was a 1153 ton, 3 masted ship that wrecked in the Graveyard of the Pacific on December 23rd, 1865. She sailed straight into the reef in front of what is now the 64 kilometre mark of the West Coast Trail. The William Tell was built in New York in 1850. She sailed in the North Atlantic for a few years before branching out to more distant ports. On her final voyage in 1865, she was inbound from South Africa in ballast, heading to a port in the Puget Sound. She managed to sail into Juan de Fuca Strait, however stormy weather and strong currents moved her considerably far west. Blindly sailing in thick fog and the darkness of night, the William Tell smashed into the reef between Owen Point and Camper Bay. The crew of 22 men managed to scramble safely to shore and made their way to Owen Point where they lit signal fires. Their fires were spotted from the harbour of Port San Juan(Port Renfrew). They were picked up and later brought back to Victoria by a local trading schooner.
Decide on Inland or Beach Route at 65k
Beach access at 65k recommended to avoid arduous inland route and to see the amazing caves at Owen Point at 67k. Owen Point has a tricky section where you really have to think about the tides. Must be below 6 feet to get around the point without jumping into ocean knee deep water! Nice beach section to Thrasher Cove at 70k. The end of the trail is only 5k away, though the trail is pretty slow going so expect to take 3 hours and beware of the early closing ferry crossing at the Gordon River trailhead(usually 430pm).
Thrasher Cove Campsite at 70k

Thrasher Cove has a lot of good aspects as well as some bad. In terms of good, the beach is very pretty and quite interesting. Not a broad and long beach, the beach at Thrasher Cove is quite varied with rock outcrops and constant bends. You can easily keep yourself amused by wandering down the beach, poking your head around every new corner. Back at the campsite, the beach tent sites are backed by an alarmingly abrupt ascent to the main trail. The outhouses at Thrasher Cove are perched up in the trees above the beach and looking around, you feel the embrace of the trees all around giving just narrow glimpses of the ocean. As for bad, Thrasher Cove is generally crowded with fellow campers, and you may find yourselves elbow to elbow with a dozen or more tents in an increasingly confined area. The problem, of course is the narrow beach and abrupt cliff at your back. This does, however, give you a wonderful feeling of how the West Coast Trail truly is. Wild rainforest behind you with ladders attached to the steep terrain and a beautiful ocean in front of you.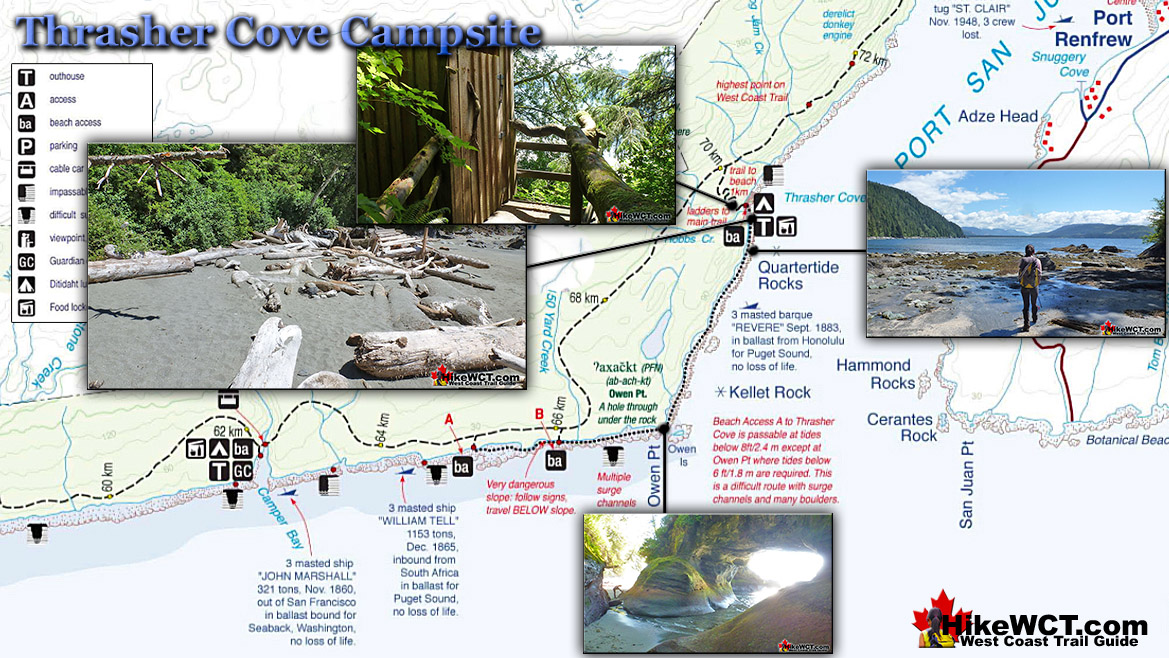 Gordon River Trailhead at 75k
Many West Coast Trail hikers continue past Thrasher Cove and continue to the Gordon River trailhead. The distance is a little over 5 kilometres and all of it a challenging inland trail. Lots of ups and downs, mud and ladders. Not nearly as difficult as the previous days between Walbran Creek and Camper Bay. Aside from Thrasher Cove being usually crowded and lacking in fresh water, it feels too close to the end(or start) of the trail. If you are hiking south, it feels strange to not just continue to the end and celebrate with a nice meal and possibly a comfy bed later. If you are hiking north, stopping to camp at Thrasher Cove doesn't feel like you have covered much of the trail. Not least because you stare across to Port Renfrew from the campsite!
There are two very important considerations to keep in mind if you hike Camper Bay to Thrasher in one day. It is highly recommended to hike the beach route as it is considerably easier and stunningly beautiful. You are at the mercy of the Gordon River ferry crossing schedule. Theoretically if you miss the last ferry across you can get stranded. You don't want to make it all the way to the end and miss your ride across to civilisation. There are pretty regular boats passing by, especially in the summer and in the evening. So getting a ride across can't be that difficult, but you by no means can count on that. Check the ferry crossing schedule that you will get when you start the trail. In the past years he finishes at about 430pm everyday.
If you are hiking from the Gordon River trailhead to Camper Bay on your first night, you have to know the tides. You can't take the beautiful beach route from Thrasher to Camper Bay when the tide is high. So about half of every day the route is blocked by impassible sections of ocean. You can easily hike the land route and not worry about the tides, but the land route is not as interesting or scenic. If you can't make the beach route on your first day, then camping at Thrasher Cove would be well worth it. The beach route is very nice and you can take your time and enjoy the countless views and sights.
Hike the West Coast Trail

Day 1 Pachena to Darling

Day 2 Darling to Tsusiat

Day 3 Tsusiat to Carmanah

Day 4 Carmanah to Walbran

Day 5 Walbran to Cullite

Day 6 Cullite to Camper

Day 7 Camper to Thrasher