People of the Southwest Coast of Vancouver Island is R. Bruce Scott's third wonderful book on the southwest coast of Vancouver Island. His first book was "Breakers Ahead!", which focussed on the incredible number of shipwrecks along the coast of Vancouver Island. His incredible knowledge of the area allowed him a deeper understanding of the tragic events along the coast. "Breakers Ahead!" is arguably the best book on West Coast Trail shipwrecks.
West Coast Trail Shipwrecks

Alaskan at 4k 

Soquel at 5k 

Sarah at 7k 

Becherdass-Ambiadass at 8k 

Michigan at 12k 

Uzbekistan at 13.8k 

Varsity at 17.6k 

Valencia at 18.3k 

Janet Cowan at 19k 

Robert Lewers at 20k 

Woodside at 20.2k 

Uncle John at 26.2k 

Vesta at 29k 

Raita at 33k 

Skagit at 34.2k 

Santa Rita at 37k 

Dare at 39k 

Lizzie Marshall at 47k 

Puritan at 48.5k 

Wempe Brothers at 49.4k 

Duchess of Argyle at 58k 

John Marshall at 62.3k 

William Tell at 64.2 

Revere at 69k 

Cyrus at 75k
West Coast Trail Campsites

Pachena Bay Campground 

Michigan Creek at 12k 

Darling River at 14k 

Orange Juice Creek at 15k 

Tsocowis Creek at 16.5k 

Klanawa River at 23k 

Tsusiat Falls at 25k 

Cribs Creek at 42k 

Carmanah Creek at 46k 

Bonilla Creek at 48k 

Walbran Creek at 53k 

Cullite Cove at 58k 

Camper Bay at 62k 

Thrasher Cove at 70k 

Pacheedaht Campground
While "Breakers Ahead!" was written to motivate the creation of the park that would encompass the West Coast Trail, R. Bruce Scott's second book, Barkley Sound A History of the Pacific Rim National Park Area laid out a wider history of the area. This amazing book published in 1972 has a chapter on Pacific Rim National Park, a few chapters on some of the first European explorers. He then has chapters covering some of the trading posts and early settlements along the islands West Coast. He has an interesting chapter on the Cape Beale Lighthouse, the Carmanah Point Lighthouse and the Pachena Point Lighthouse. Another chapter is devoted to the history of the West Coast Telegraph line. The extraordinary story of the Valencia shipwreck he tells beautifully in Chapter 13. Chapter 16 is all about the West Coast Lifesaving Trail. He also has several chapters on the history of Bamfield where he resided for much of his life. Scott's third book of the trilogy is People of the Southwest Coast of Vancouver Island. Published in 1974 this amazing book delves into the lives of many noteworthy people along the West Coast of Vancouver Island. Daykin of Carmanah is an amazing chapter on the history of Phil Daykin, the lighthouse keeper that we hear about often when reading about West Coast Trail shipwrecks.
People of the Southwest Coast of Vancouver Island
Phil Daykin was the lightkeeper of the Carmanah Point Lighthouse from 1891 to 1912. He kept a meticulous lighthouse diary in which he recorded every ship sighted from his commanding view from the lighthouse tower. Daykin's son, also named Phil Daykin and David Logan of Clo-oose responded to numerous shipwrecks along this particularly brutal and notorious stretch of the Graveyard of the Pacific. They both arrived at the cliff overlooking the horrific scene of the Valencia shipwreck, just moments before its 36 hour ordeal of being pounded by waves finally smashed her and remaining survivors into the sea.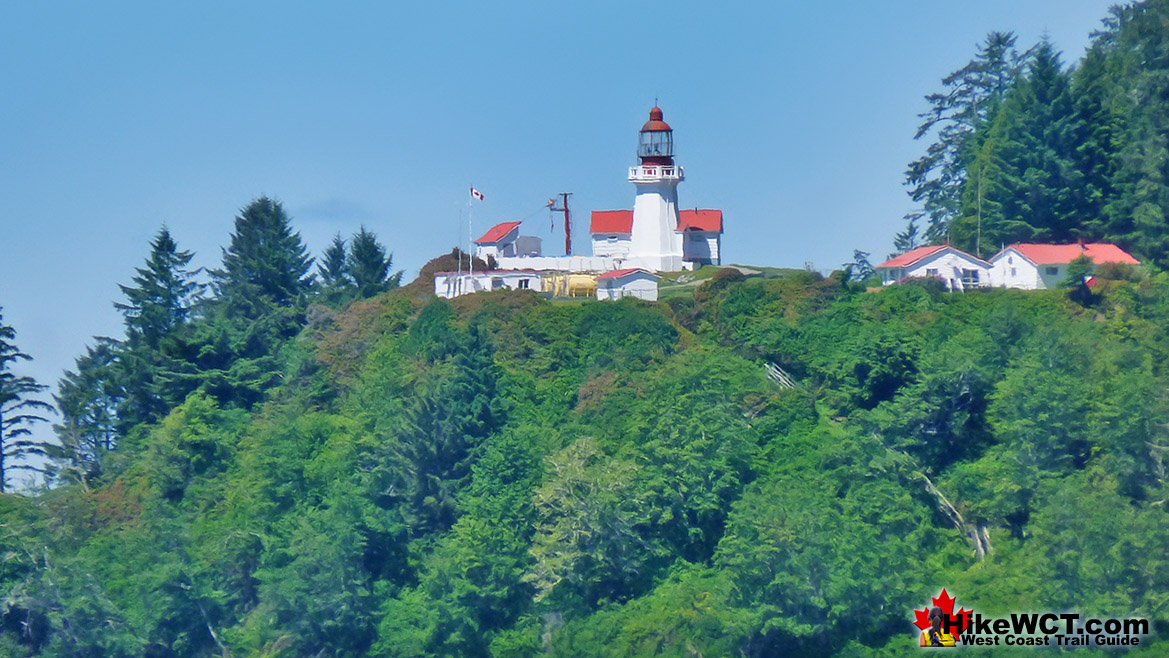 Phil Daykin of Carmanah Point Lighthouse
In R. Bruce Scott's excellent book, People of the Southwest Coast of Vancouver Island, he writes about his interesting life during the years he manned the Carmanah Point Lighthouse. Scott also recalls the tragic deaths of two of Daykin's sons. One of his sons, at just 17, was taking the trolley that ran from the lighthouse down to the shore. This steep, cable trolley was powered by a gas powered winch. One day as his son was riding the trolley down and a cable broke, throwing the boy off and he died instantly falling onto the rocks far below. He lost another son years later when his son and a friend went on a hunting trip up Nitinat Lake. When they did not return a search party went to find them and discovered their boat floating in the lake. Their guns, gear, bedrolls and all their belongings were on the boat, yet no sign of them or where they could have gone. It was thought unlikely that they could have drowned as they were both excellent swimmers and the disappearance remains a mystery to this day. The Daykin's had a confrontational relationship with the local First Nations people and one plausible theory is that they were murdered and their bodies hidden.
Phil Daykin Retires to Victoria
He continued as lighthouse keeper at Carmanah Point Lighthouse until he was unable to physically keep up with all the rigorous tasks. He was replaced in 1912 and transferred to the Macaulay Point Lighthouse at the entrance of Victoria Harbour. This posting was much easier for him to cope with, with his failing health. He would eventually die of the flu, which he often suffered very badly from and was blamed on one winter night climbing the exposed stairs up to the top of the lighthouse.
The Surprising History of Clo-oose
Chapter 8 is an amazing history of Clo-oose. This town was thought to become a popular tourist town and various circumstances resulted in it not taking hold and after a few busy decades it was abandoned. You will walk through Clo-oose when hiking the West Coast Trail and see that is is now comprised of just a few First Nations houses. Yet another amazing chapter is entitled, David Logan of Clo-oose. Most of the major shipwrecks along the West Coast Trail involved him to some degree. Logan and the Daykin's facilitated the rescue of countless shipwreck survivors. An amazing book, and without it many of these interesting characters would be largely forgotten from history. People of the Southwest Coast of Vancouver Island can be found online at a few places including Amazon.
More Books About West Coast Trail Shipwrecks