Vancouver Island's West Coast 1762-1962 by George Nicholson is a fantastic history that gives you a window to a staggering array of events that occurred during those two eventful centuries. The amount of research that went into this book must have been colossal. Dozens and dozens of beautiful illustrations bring the people and places to life. Published in 1965 after decades of living in the area, Nicholson is able to write about events he was part of.
West Coast Trail Shipwrecks

Alaskan at 4k 

Soquel at 5k 

Sarah at 7k 

Becherdass-Ambiadass at 8k 

Michigan at 12k 

Uzbekistan at 13.8k 

Varsity at 17.6k 

Valencia at 18.3k 

Janet Cowan at 19k 

Robert Lewers at 20k 

Woodside at 20.2k 

Uncle John at 26.2k 

Vesta at 29k 

Raita at 33k 

Skagit at 34.2k 

Santa Rita at 37k 

Dare at 39k 

Lizzie Marshall at 47k 

Puritan at 48.5k 

Wempe Brothers at 49.4k 

Duchess of Argyle at 58k 

John Marshall at 62.3k 

William Tell at 64.2 

Revere at 69k 

Cyrus at 75k
West Coast Trail Campsites

Pachena Bay Campground 

Michigan Creek at 12k 

Darling River at 14k 

Orange Juice Creek at 15k 

Tsocowis Creek at 16.5k 

Klanawa River at 23k 

Tsusiat Falls at 25k 

Cribs Creek at 42k 

Carmanah Creek at 46k 

Bonilla Creek at 48k 

Walbran Creek at 53k 

Cullite Cove at 58k 

Camper Bay at 62k 

Thrasher Cove at 70k 

Pacheedaht Campground
Other events that happened before his time, he is able to describe in detail only possible by living in the area and knowing every feature of the land. His sources are from the written journals of the many explorers in the area. You know you are in for a wild ride from the first sentence of the book. "The history of British Columbia begins at Nootka". Along with the wonderful history of the west coast along and beyond the West Coast Trail, two of the West Coast Trail shipwrecks are written in vivid detail about. The tragic story of the Valencia disaster and the Janet Cowan shipwreck are told in two separate chapters. Also, the Uzbekistan shipwreck that occurred at the outflow of Darling River is briefly mentioned. One of the photos in the book is of the Uzbekistan shortly after breaking up on the reef and is an amazing view of the wreck you tend to never see. All the other well-known West Coast Trail shipwrecks are mentioned in one chapter titled, "Forty Wrecks, One for Every Mile".  Tsusiat Falls has a chapter devoted to it as well as the Carmanah Point Lighthouse. 
Uzbekistan Shipwreck Photo from Vancouver Island's West Coast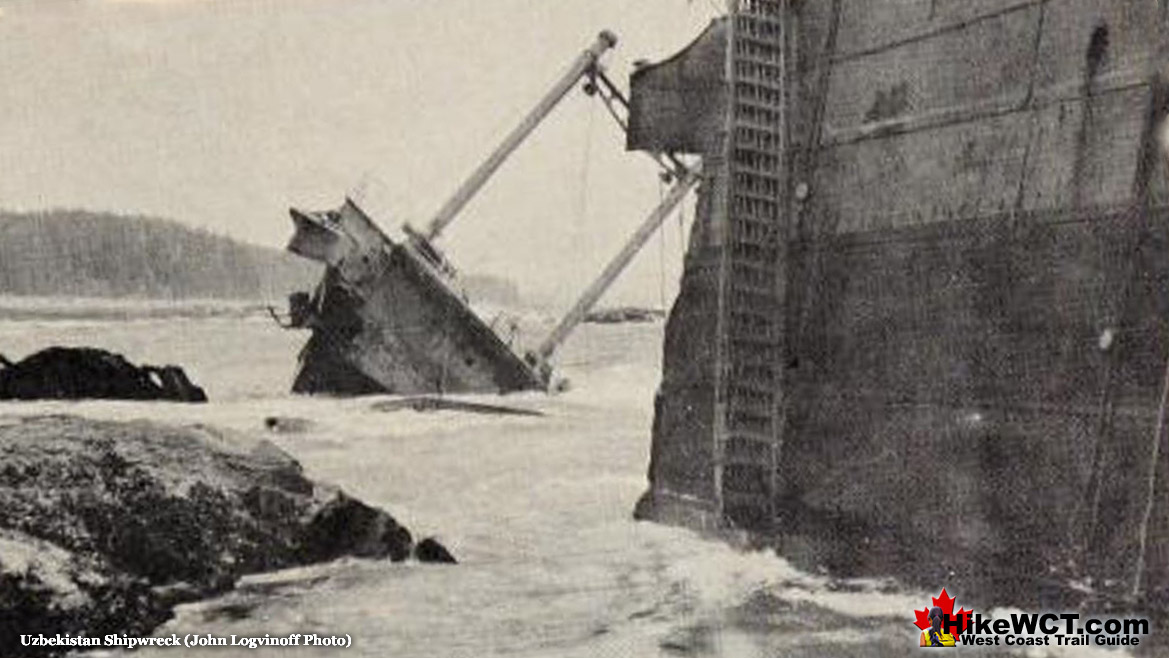 Vancouver Island's West Coast 1762-1962 can be found online on Amazon and many other online book stores.
More Books About West Coast Trail Shipwrecks